Experiment 1
Will nylon disintegrate as fast as cotton?
Materials:
Old nylon stocking
Shovel
Cotton cloth (like a towel or sock)
Water
Paper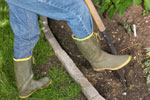 1.    Dig 3 holes about 12-cm deep. Wet them and add the materials. Cover with dirt!
2.    Mark the spots well.
3.    Keep the materials moist. Water the spots every day.
4.    Remove foot before planting sock!
5.    Dig everything up in 30 days.
 What changes took place?
OTHER IDEAS TO EXPLORE:
"Plant" many other things, both natural as well as man-made. Compare the results.
 What happens to things that don't disintegrate?