Experiment 5
Which soil makes beets and radishes grow best?
Materials: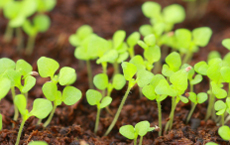 Beet and radish seeds
Sand
Soil
Compost
Time-release fertilizer (Follow directions on the package.)
8 Styrofoam cups
Do this first:
Fill the cups with the potting mixes. Make two cups of each type of soil. Plant 2 beet or radish seeds in each.
Fertilize one cup each of the different potting mixes.
Place the cups on a sunny window sill and add 2 teaspoons of water to each cup daily.
Record your results. Which plant sprouts fastest? Which grows fastest?
OTHER IDEAS TO EXPLORE:
Where does timed-release fertilizer come from?
Which takes more energy to produce: compost or chemical fertilizer?